Triple Chocolate Cookie Recipe Without Baking Powder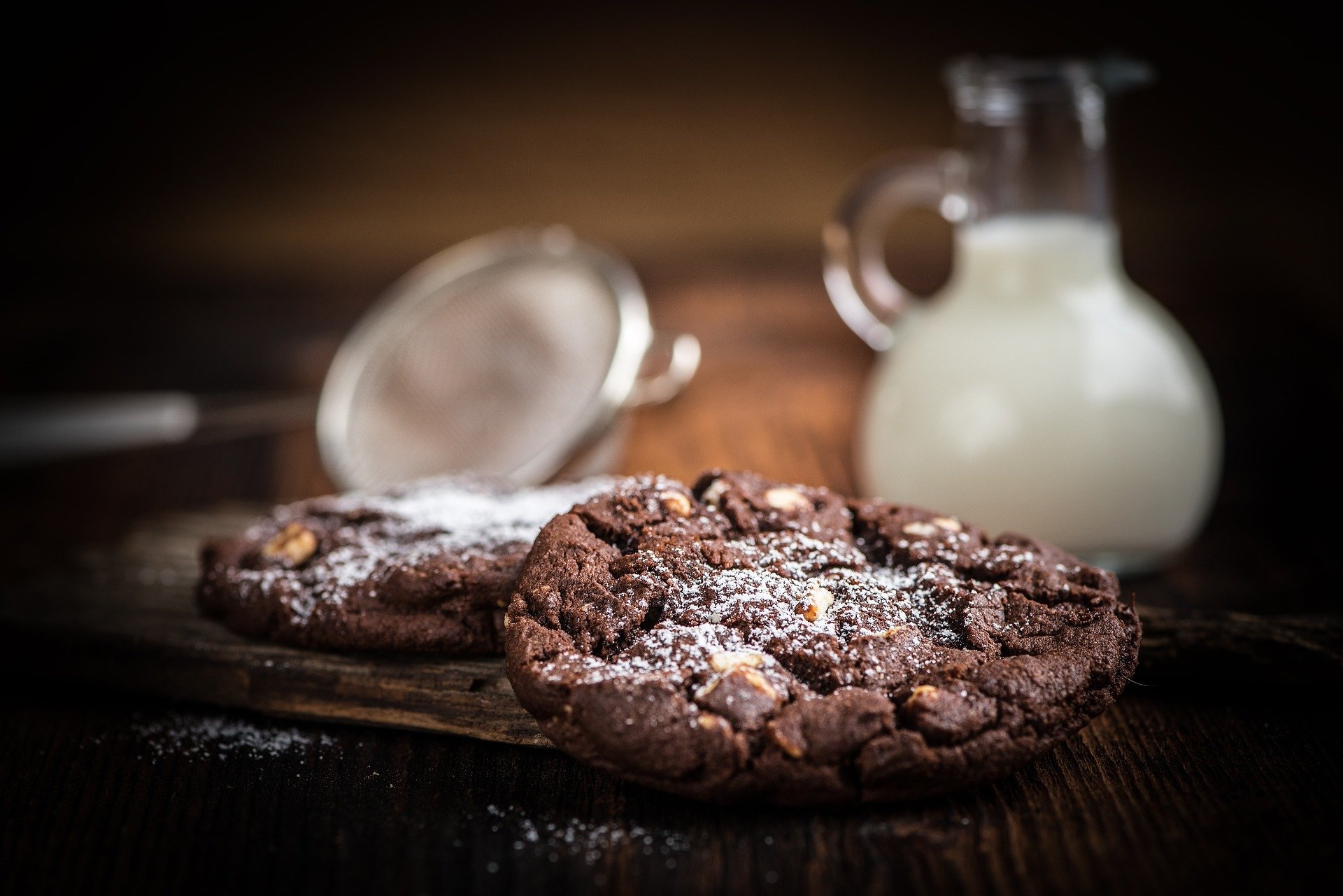 If you love chocolates, this triple chocolate cookie recipe without baking powder or nuts is for you! Made with three types of chocolate, cocoa, semi-sweet chocolate, and white chocolate chips making these cookies deliciously delightful and sweet.
Ingredients:
1 cup all-purpose flour (110 grams)
1/2 cup granulated sugar (100 grams)
1/4 cup brown sugar (50 grams)
1/2 teaspoon baking soda ( 2grams)
8 tablespoons unsalted butter (113 grams)
1/2 teaspoon salt (2 grams)
2 1/2 tablespoons cocoa powder (37 grams)
2/3 cup semisweet chocolate chopped (105 grams)
3/4 cup white chocolate chips (120 grams)
1 teaspoon vanilla extract (5 grams)
2 large eggs (100 grams)
Instructions:
Preheat the oven to 350°F/180°C and place the rack in the middle position.
Line two baking pans with parchment paper and set aside.
In a medium-size bowl add the flour, baking soda, salt, and cocoa powder and mix together.
Melt the chopped semi-sweet chocolate in a small bowl using either a double boiler or microwave.
In a separate bowl, cream together the butter and both sugars until the mixture is smooth using a hand mixer or planetary mixer with a paddle attachment.
Add in the vanilla and eggs and continue to mix for about one minute.
Pour in the melted chocolate and mix until combined.
Put in the flour just until the cookie dough starts to form.
Add in the white chocolate chips and mix for additional 10 seconds.
Scoop the cookie dough using an ice-cream scoop and place onto lined baking pam separating them about 2 inches apart from each other.
Place into the preheated oven and bake for 10-12 minutes or until the edges are firm.
Remove from oven and cool before serving.
Serve and Enjoy your freshly baked triple chocolate cookies.
Store leftover cookies in an airtight container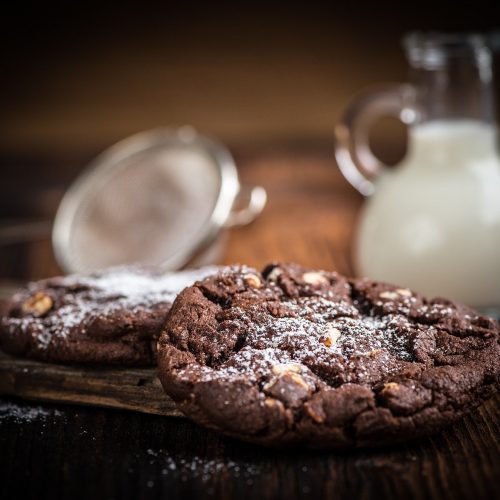 Triple Chocolate Cookies
Calling all you chocolate lovers! Our triple chocolate cookie is made with three types off chocolate, cocoa, semi sweet chocolate and dark chocolate chips making these cookies deliciously delightful and sweet.
Course
Dessert, Easy, Snack
Ingredients  
1

cup

all purpose flour

110 grams

1/2

cup

granulated sugar

100 grams

1/4

cup

brown sugar

50 grams

1/2

teaspoon

baking soda

2grams

8

tablespoons

unsalted butter

113 grams

1/2

teaspoon

salt

2 grams

2 1/2

tablespoons

cocoa powder

37 grams

2/3

cup

semisweet chocolate chopped

105 grams

3/4

cup

white chocolate chips

120 grams

1

teaspoon

vanilla extract

5 grams

2

large eggs

100 grams
Instructions 
Preheat the oven to 350°F/180°C and place rack in middle position.

Line two baking pans with parchment paper and set aside.

In a medium size bowl add the flour, baking soda, salt and cocoa powder and mix together.

Melt the chopped semi-sweet chocolate in a small bowl using either a double boiler or microwave.

In a separate bowl, cream together the butter and both sugars until mixture is smooth using a hand mixer or planetary mixer with a paddle attachment.

Add in the vanilla and eggs and continue to mix for about one minutes.

Pour in the melted chocolate and mix until combined.

Put in the flour just until the cookie dough starts to form.

Add in the white chocolate chips and mix for additional 10 seconds.

Scoop the cookie dough using a ice-cream scoop and place onto lined baking pam separating them about 2 inched apart from each other.

Place into preheated oven oven and bake for 10-12 minutes or until the edges are firm.

Remove from oven and cool before serving.

Serve and Enjoy your freshly baked triple chocolate cookies.

Store left over cookies in an airtight container
Keyword
cookies chocolate, quick cookie recipe, recipes for chocolate cookies, triple chocolate cookies
---
---