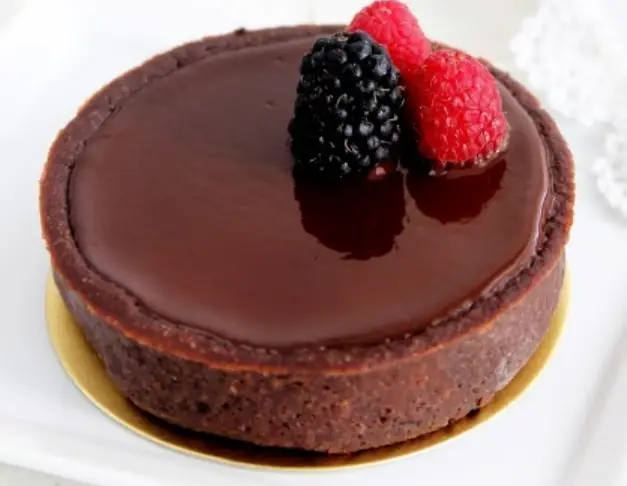 Decadent Triple Chocolate Tart Recipe
If you love chocolate then this dessert recipe is for you. Decadent Chocolate Tart Recipe with Glacage.
Chocolate Glacage Recipe
300

grams

Dark Chocolate

Chopped

240

grams

heavy cream

35%

300

grams

chocolate sauce

for Ganache recipe below
Chocolate Sauce For Glacage
70

grams

cocoa powder

190

grams

Water

130

grams

fine sugar

or granulated

40

grams

Butter Unsalted
Chocolate Short Crust
Preheat oven to 180C. In a mixing bowl add the flour, cocoa, salt, sugar and butter and mix till a crumble is formed about 3 minutes. Then add the eggs and mix just till dough come together.
Once dough is mixed place on a lightly floured surface and using a rolling pin roll out the dough into a round disc about 10 mm thickness and refrigerate for about 30 minutes.

Remove pastry dough from refrigerator and sheet the dough using a rolling pin back and forth motion until dough thickness reaches about 4mm.

Transfer the sheeted pastry dough onto the tart form and cut off excess dough around the rim. Place in freezer for 10 minutes.

Remove from freezer and fill the tart with beans and bake in preheated oven for 15-20 minutes or until pastry shell is golden brown. Remove beans once baking is complete.
Chocolate Glacage Mixture
Preheat oven to 160C. Place the chocolate and butter in a separate large bowl. Turn stove on and turn to medium setting, Place the cream in a pot and bring to a boil. Once cream starts to boil remove from heat and add to the chocolate and butter and stir continuously until chocolate has melted, add in the eggs now and mix till well combined.

Place the chocolate mixture into the tart shell about 3/4 high and bake for 0-25 minutes or until top has set.
Chocolate Sauce
Add the cocoa, water and sugar into a pot and stir over medium heat until the sugar dissolves. Once it comes to a bil add the butter and continue to stir until butter is completely melted and blended into the mixture.

Remove from heat and run the chocolate sauce through a strainer to remove any unwanted lumps. Set aside.
Finishing Glacage
Place the chocolate in a bowl. Bring the cream to a boil in a separate pot Once cream comes to a boil remove from heat and pour over the chocolate and stir till the mixture becomes very smooth then add the in the chocolate sauce and mix till well combines.

Once the tart has cooled you can pour the Glacage onto the top of tart and place back into refrigerator until chilled and dessert filling is firm.