Chocolate Chip Oatmeal Peanut Butter Squares Recipe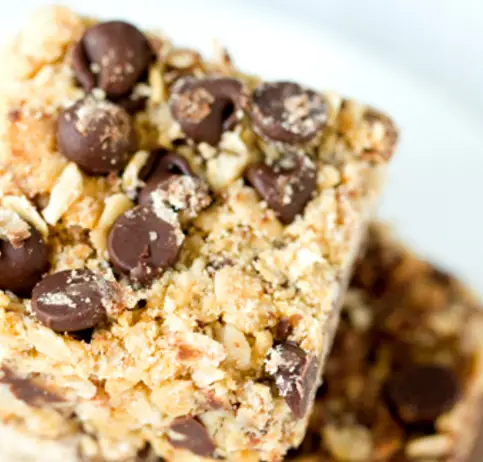 Easy and simple delicious Chocolate Chunk Oatmeal Peanut Butter Squares in just 30 minutes and 4 easy steps. Real recipes from Real Bakers from around the World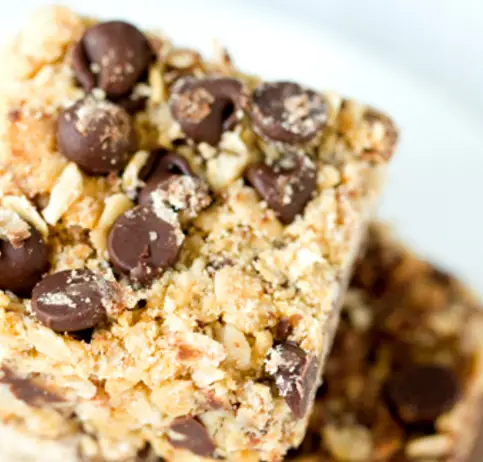 Chocolate Chip Oatmeal Peanut Butter Squares
Easy and simple delicious Chocolate Chip Oatmeal Peanut Butter Squares in just 30 minutes and 4 easy steps. Real recipes from Real Bakers from around the World.
Ingredients  
300

grams

chocolate chips

2-1/2

cups

all purpose flour

1

Tsp

baking powder

1-1/4 cup

cups

Butter Unsalted

2

cups

Oats

1/2

cup

Chopped Roasted Almonds

1

egg

egg

Lightly Beated

400

grams

Sweet Condensed Milk

1/2

cup

Chunky Peanut Butter

1/2

Tsp

Natural Vanilla Extract
Instructions 
Preheat oven to 350F/180C. Spray lightly 12/8 inch shallow baking pan.

Add the baking powder to the all purpose flour and sift together 3 times into a large bowl. Work in the butter with your fingers until the mixture comes to a crumble. Add in the sugar, vanilla and oats and mix together. Place one quarter of the mixture into a bowl and add the chocolate chips and set aside.

Stir in the eggs into the rest of the mixture, then press into the bottom of baking pan. bake in preheated oven for 13 minutes.

In the mean time, mix together the sweet condensed milk and peanut butter in a bowl. Pour into the pan and spread evenly, add the remaining chocolate mixture on top and press down gently. Bake for addition 20-25 minutes or until nice and golden. After baking let the chocolate chip oatmeal peanut butter square cool down before cutting it into individual squares.
Tags:
butter squares with peanut butter
,
chocolate chip peanut butter square
,
chocolate chip peanut butter square recipe
,
chocolate chip peanut butter squares
,
chocolate chunk oatmeal peanut butter squares
,
chocolate chunk oatmeal peanut butter squares recipe
,
chocolate chunk squares
,
chocolate peanut butter
,
chocolate peanut butter bars
,
chocolate peanut butter squares
,
chocolate squares
,
easy chocolate chip peanut butter square
,
easy peanut butter square recipe
,
oatmeal square recie
,
peanut butter bars
,
peanut butter cookie bars
,
peanut butter squares
,
recipe for peanut butter bars
,
squares
---
---