If you're looking for a rich cake to bake up for your next celebration, then try this recipe for chocolate cake with ganache and hazelnut pecan praline cream. What else can you ask for? Rich layers of chocolate cake sponge filled with a decadent chocolate caramelly ganache combined with a classic praline.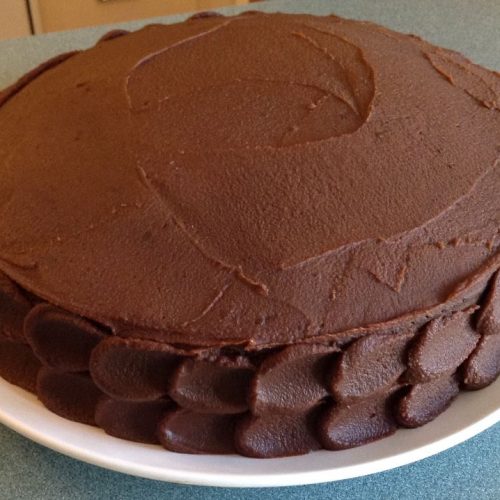 Chocolate Cake With Ganache And Praline Filling
This decadent chocolate cake is filled with a smooth creamy caramel ganache and classic praline paste making this exquisite dessert cake one of the best.
Ingredients  
Chocolate Cake:

80

grams

eggs

60

grams

water

85

grams

sunflower oil

110

grams

sugar

110

grams

pastry flour

4

grams

baking powder

2

grams

baking soda

25

grams

Dutch cocoa

Chocolate Ganache:

110

grams

dark chocolate

100

heavy cream

100

grams

caramel spread

Praline Cream:

75

grams

hazelnuts pieces

75

grams

pecans pieces

150

grams

sugar

50

grams

butter
Instructions 
Chocolate Sponge Cake:

Preheat oven to 165 ° C and place the oven rack in the middle.

Add all the dry ingredients into a bowl and mix them together.

Place the eggs and sugar into a bowl and beat until the mixture begins to foam to a light yellow color.

Pour in the oil slowly and then the warm water and continue to beat the mixture until well combined.

Add portions of the flour mixture to the egg mixture and gently fold until the batter is smooth. Divide into 3 portions.

Prepare 3 round 8-inch cake pans by buttering the bottom and sides followed by dusted flour.

Pour the portioned cake batter into the cake pans and bake for about 20 minutes. The internal temperature should be 96 ° C or above.

Remove cake from oven and carefully remove it and cool on a wire rack.

Caramel Ganache:

Heat the milk cream but don't bring to a boil and pour it over chopped chocolate, stirring constantly untel melted and smooth.

Once Ganache has cooled down, add the caramel spread and mix to combine. Transfer to a piping bag with a round tip.

Hazelnut and Pecan Praline:

Prepare a sheet with parchment or plate and spray with oil. Set aside.

Place the sugar followed by the water into a pot and bring to a temperature of 116° C. Reduce the heat to medium low and add the hazelnut and pecan and continue to cook until both nuts are carmelized.

Ytransfer the praline to a plate or lined baking shhet and allow to cool down.

Once cooled, combine with butter into a food processor and pulse until a pasty texture. Transfer praline paste to another piping bag with round tip.

Build The Cake:

Place one of the cakes onto a cake base. Fill it with the praline paste first followed by the caramel ganache about 1/2 inch in thickness. Repeat with layer two then refrigerate the cake for 30 minutes and finish the top layer and the sides of the cake with the rest of the caramel ganache.

Keep cake refrigerated fountil serving.

Enjoy!