Colombian Patacones Recipe (Fried Plantains)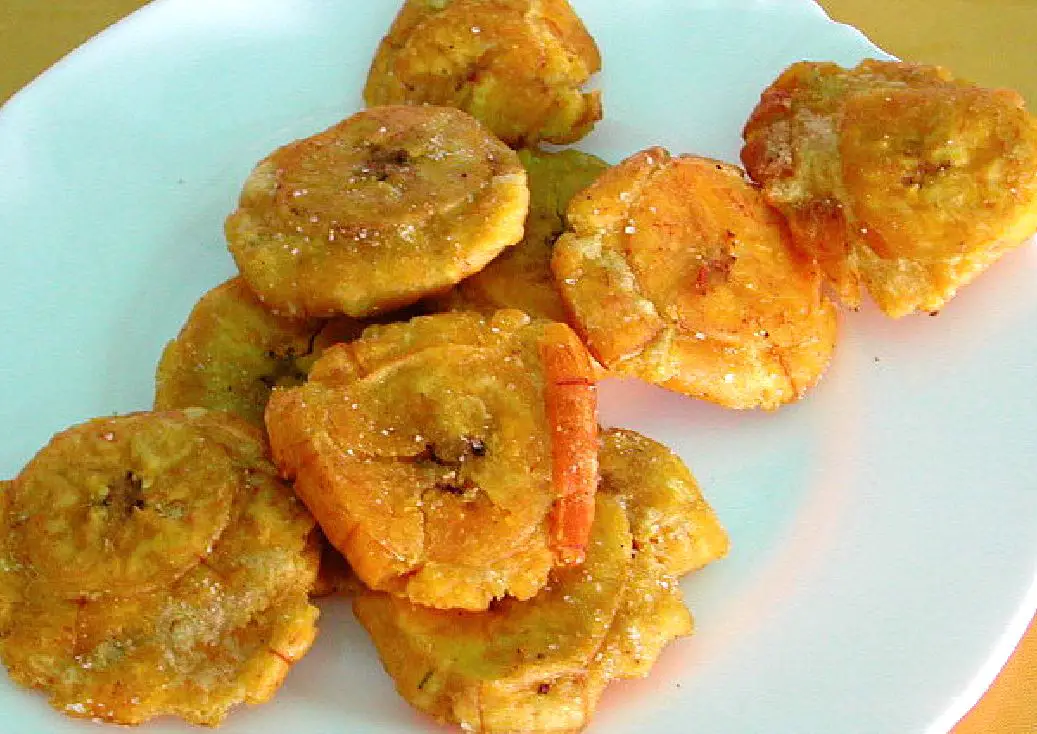 This Colombian patacones recipe (Fried plantains) is easy and quick to prepare and makes a great snack or appetizers that can be topped with essentially anything. Patacones are a staple in South American and Caribbean kitchens and are referred to in different names. Ecuador, Peru, and Mexico call these fried plantains tostones.
So if you're wondering if Tostones is the same thing as Patacones, the answer is yes.
These Colombian fried plantains known as Pantacones or Patacon are sliced fried plantains that are perfect for snacking.
Patacon is one of the most prepared sides food in Colombian dishes and is prepared with fried green plantain, then crushed and fried again until it resembles a pancake. The result is a crunchy and delicious plantain side!
The way Colombian patacones are served varies depending on the region of the country. In Zona Bananera, patacones are served for breakfast, lunch, or lunch; on the coast patacón is usually served with cheese, while in the center of the country patacón is popular as a starter or side dish with meat, chicken and shrimp.
As you can see, the Colombian patacón is very versatile and can accompany and main dish! Try our Colombian patacones recipe today and get a little taste of Colombia.
Easy Colombian Patacones Recipe
These delicious Colombian patacones fried plantains also known as tostones make the perfect snack or side dish. Preparing patacones is easy and quick and takes less than 30 minutes from preparation to your plate.
Ingredients  
3

green plantains

1

cup

oil

230 grams

1/2

teaspoon

salt
Instructions 
Peel and cut the green plantains into thick slices about 2 fingers thick.

Add the oil to your skillet or frying pan and heat.

When oil is hot add the sliced plantains and fry for about 10 minutes or until golden on all sides.

Add some hand paper to a paper to help drain the excess oil from the fried plantain.

Once plantains are cooked place them onto lined plate.

Then use a potato masher to flaten the plantains into a disc, then sprinkle some salt.

If you have a pataconera a special utencil used in Colombia to flatten the fried plantains then use it. If you don't have either a paraconera or potato masher, use a fork or bottom of a small bowl.

Enjoy your Patacones as is as snack or serve along side a main plate.
---
---